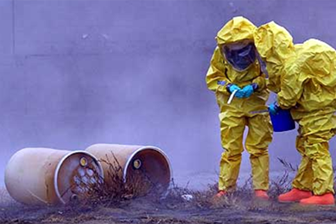 Birmingham students: Learn how to protect yourself, your family, and your employees from hazardous chemicals at home and at work.
Price
$299
Duration
1 day
Class Size
3 - 100 students

Start Day Options
Legend:

unavailable
available
facility match

City
Birmingham, AL
Recommended Dates
The following dates are recommended because they have a low minimum student requirement, or students are enrolled but not yet enough to hold a class. Please choose a date for your Chemical Safety Training class. Dates are formatted as year-month-day:

All Dates
If none of the recommended dates work with your schedule, that's ok. Please choose a date from the list below:

About Chemical Safety Training
Birmingham students: Learn how to protect yourself, your family, and your employees from hazardous chemicals at home and at work.

Pretty much anything can kill you. Even too much water can be toxic, and salt water certainly is. But other substances are lethal even in minute quantities. Learn about their Material Safety Data Sheets (MSDS), markings, storage, handling, and Personal Protective Equipment (PPE).